TOP PRODUCTS AWARD WINNERS!
The recipients of the 3rd Annual METALCON Top Products award undeniably exemplify groundbreaking innovations aimed at propelling the metal construction industry forward. Only at METALCON will you see these top-of-the-class products featured by exhibitors, with some products being seen for the first time. Congratulations to this year's winners in the following categories:
Accessories: S-5! – PVKIT HUR
Contractor Tools & Equipment: Wood's Powr-Grip – MTEX-DC3 Vacuum Lifter for Insulated Metal Panels
Insulation & Weather Barriers: PAC-CLAD – PAC-CLAD HT
Paint & Coatings: Chemcoaters – FeGuard
Rollforming Equipment: CIDAN Machinery Group – XTap & XSpace
Roofs: Isaiah Industries – Anodized Aluminum Oxford Shingle
Technology: MetalCoffeeShop – MetalTalk™
Walls: Steel Dynamics, Flat Rolled Group – Tru>Steel HD
Other: Accurate Perforating – The Essential Partition
While at METALCON, attendees can cast their vote for their favorite products among the award winners and the prestigious "People's Choice Awards" will be revealed during the show on Friday, October 20 at 12:30 pm.
LOOK INSIDE!
Long-time METALCON publication partner, Metal Construction News, has issued a "sneak peek" at this year's pre-show guide. A look at the expo hall map, education session schedules and descriptions, speaker bios, training and demos, show highlights and more.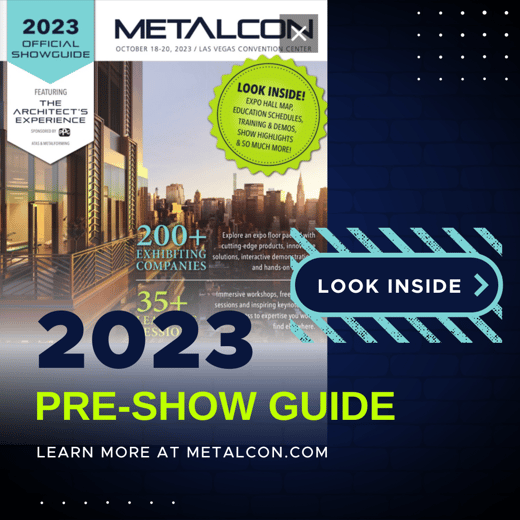 FUTURE LEADERS OF METAL CONSTRUCTION
If you are under the age of 40 and attend METALCON next month, you will automatically be registered as a METALCON Future Leader and have access to connect, collaborate, and build relationships with industry peers. By attending education sessions and visiting with exhibitors, you will learn about industry trends, emerging technologies, and sustainability initiatives crucial for career growth. Attain insights into career development opportunities, including job openings, training programs, and certifications. Engaging with successful industry leaders and organizations can be inspiring and motivational to help you advance your career. If you haven't yet registered to attend METALCON, *** use the promo code FLMC to get $50 off for your registration fee. ***
LEARN MORE AND REGISTER TODAY →

VEGAS INSIDER – THE KING
Mentioning "Vegas" invariably invokes thoughts of the "King of Rock 'n' Roll," Elvis Presley. His profound impact on the city of Las Vegas during the late 1960s and early 1970s is indisputable. Notably, his historic comeback took place at none other than METALCON's headquarter hotel for next month's show — the Westgate Las Vegas Resort & Casino (formerly known as the International Hotel). The Westgate has stood as an enduring institution for decades, once home to Elvis during his remarkable seven-year residency. Though his suite may be a thing of the past, the hotel pays tribute to the King of Rock 'n Roll with the Elvis Presley's Graceland Wedding Chapel and a striking statue in his honor. To this day, Elvis's legacy thrives through the countless impersonators who continue to grace Vegas stages, reinforcing the lasting connection between the city and this legendary music icon.
PPG at Booth #7089

PPG, event sponsor of The Architect's Experience at METALCON, is more than a coatings supplier. They are a coatings partner. PPG offers next-level durability, unrivaled technical expertise, a vast library of colors and special effect finishes, plus innovations like color-shifting pigments, coatings that cool buildings and cure with less energy for more sustainable processes. They make coatings that meet every performance need, from residential projects to monumental buildings like Allegiant Stadium in Las Vegas. Discover the power of a partner.
Visit PPG at METALCON in Booth #7089. You can also learn from PPG representatives at the following free education sessions: Designing for Las Vegas: A Full House of Finishes for Allegiant Stadium to Enhance, Protect, and Cool, scheduled for Wednesday, October 18 at 8:30 am in room S229, and Improve Sustainability of Pre-Painted Metal with Radiation Cured Coatings, also on Wednesday, October 18 at 11:15 am in the Sustainability Learning Center on the show floor.
MILL STEEL at Booth #4009

Visit Booth #4009 to discover the latest from Mill Steel Company – a partner you can trust to deliver high quality and competitively priced flat rolled steel. We look forward to sharing our expanded stainless and aluminum product offerings, online ordering and tracking site, and new state-of-the-art processing facility in Mansfield, Ohio.
Click HERE to schedule a meeting on the show floor and get a live demo of our e-commerce platform. Together, we can find industry-leading solutions to help grow your business!