Premier + Industry Keynotes Announced!
In a city famous for hosting iconic and unforgettable gatherings, METALCON delivers its own "main event" for the metal construction industry with this year's keynote speakers: HGTV star, Rico León, and AGC Chief Economist, Ken Simonson.   On Wednesday, October 18 at 10:00 am, contractor and Denver business owner Rico León, HGTV host of "Rico to the Rescue", presents his keynote,HGTV's Rico to the Rescue: Real Life Scenarios – From Nightmares to Dreams Come True. He will share some of his most unforgettable experiences and lessons learned from residential construction projects gone wrong and then turned around, helping families navigate the process—covering the good, the bad and the ugly about construction, the insurance industry, contractors and brutally honest advice to help everyday people. He will then participate in a moderated discussion by Tony Bouquot of the Metal Building Manufacturers Association (MBMA) followed by audience Q & A along with a VIP meet and greet and an autograph signing. On Thursday, October 19 at 10:00 a.m., Ken Simonson, chief economist of the Associated General Contractors (AGC) of America with 40+ years of experience analyzing, advocating and communicating about economic and tax issues, will explore the current state and outlook for construction in his keynote, Construction Outlook for 2024: Forbidding or Reason for Cheer?

LEARN MORE ABOUT KEYNOTES AND SPECIAL SESSIONS→
METALCON Live! webinars happening this July!
Buying MCM: What the Industry Has In Store For YouToday, July 12 at 1:00 PM ESTExecutive Director of MCA's MCM Alliance, Tom Seitz, John Trinoff Vice President of East Coast Metal Systems, along with a panel of experts will review the latest in the ever-developing world of Metal Composite Materials. Discover everything from what's new and coming soon, MCM specific codes and how the code requirements can be met, and the high tech finishes currently available.  Bidding and Estimating Insulated Metal PanelsWednesday, July 26 at 1:00 PM EST RC Antal, Director of Insulated Metal Panels with ATAS International, Inc., will share his 20 years of experience in the building materials industry to help attendees learn different types of insulated metal panels (IMPs) buildings and the various estimating techniques and guidelines on the different building types for both walls and roofs.

LEARN MORE AND REGISTER FOR METALCON LIVE!  →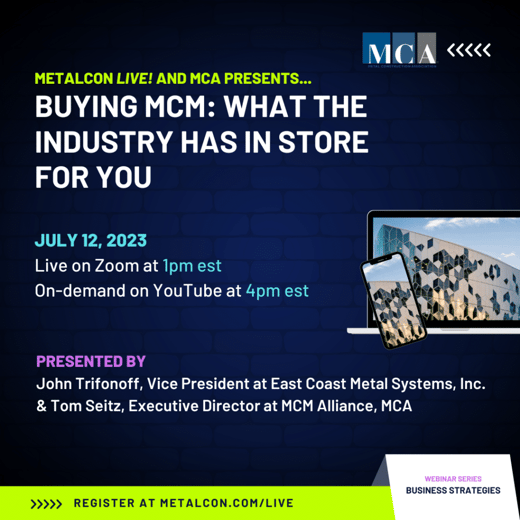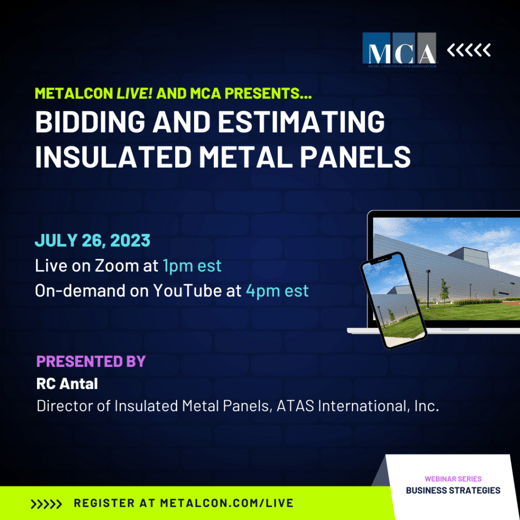 MBMA Metal Building Student Competition
The Metal Building Manufacturers Association (MBMA) 2023 Student Design Competition opens to individuals and teams on July 15, 2023. This year's contest asks architecture students to create an innovative metal building design for a new nature center and environmental research facility. More than $28,000 in prizes will be awarded to entrants in graduate and undergraduate divisions. Registration is free to full-time graduate and undergraduate students, but all entrants must have a faculty sponsor. W. Lee Shoemaker, Ph.D., PE, MBMA director of research and engineering and contest organizer, says, "The contest last year was enormously successful with both individual and team entrants from across North America." The contest offers students an excellent opportunity to learn more about metal building systems and their range of possibilities. Submissions are due by January 5, 2024 and winners will be announced February 27, 2024.   LEARN MORE →
METALCON Supports Las Vegas Veterans
METALCON continues its annual tradition of giving back to the local host community this year in Las Vegas by partnering once again with Semper Fi & America's Fund. A non-profit organization dedicated to helping veterans in all branches of the military, the program was created to direct urgently needed resources and financial support to critically wounded, ill, and injured members of the U.S. Armed Forces alongside their families. Click to donate on-line or visit us on-site at METALCON's booth, "The Deck." All donations enter you into a daily raffle for a chance to win prizes including a full access pass to METALCON 2024 at the Georgia World Congress Center in Atlanta including access to 2 in-depth workshops and 3 hotel nights (must be present to win).

LEARN MORE AND DONATE→
Experiencing Las Vegas Outdoors
When people think about Las Vegas, most immediately envision the vivid lights of the Strip, the casinos and show, and the mega resorts. But there is so much more to do in the destination, especially in the great outdoors including ATV, Dirt Bike and Desert Racecar tours, Cowboy Trail Rides. Cycle Vegas tours or getting in a round of golf at one of the nearby championship golf courses. Check out METALCON's destination partner, Visit Las Vegas, for their list of activities and preferred tour operators when planning your outdoor adventure.

LEARN MORE →