METALCONNECTION Newsletter | September 2023
LAST CHANCE TO VOTE FOR THE TOP PRODUCTS
Voting ends TONIGHT, September 5 @ 11:59PM EST. Get a "sneak peek" at the industry's top products while recognizing this year's most innovative exhibitors. Select your favorite products in each of the 8 categories. It takes less than 4 minutes (we've timed it!). Winners will be announced on METALCON's blog and social media Tomorrow, September 6th.  All winners will be recognized next month at METALCON in Vegas where attendees will vote to decide which Top 3 Product Winners will win the coveted People's Choice Award.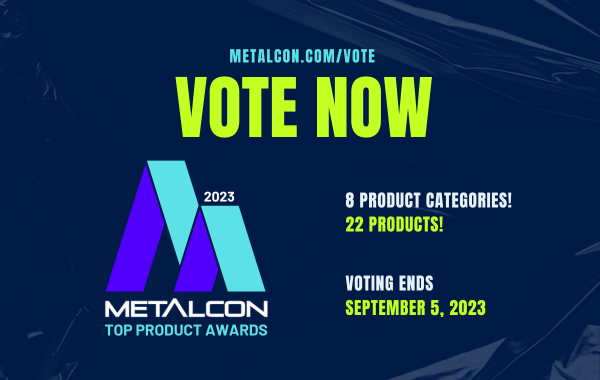 CONNECT WITH THE WHO'S WHO AT METALCON
Enhance your METALCON '23 experience with networking events on the show floor. Connect, build relationships, and explore new opportunities. Celebrate "Oktoberfest" and enjoy a cold beer with participating exhibitors, recharge and network in The Architect's Experience lounge, and help Las Vegas Veterans by donating to this year's charity at The Deck for a chance to win prizes. Women in Construction can mix and mingle with peers at "Metal and Mimosas," and hear Holly Gotfredson, CSI, CDT, President of American Metalcraft, Inc., present 'Get Naked! The Power of Authentic Leadership' (sign up here). Attendees 40 and younger, our "Future Leaders," can participate in a tailored education and networking program (while rocking a snazzy Future Leaders ribbon and logo on their badge!).
MRA ANNOUNCES NEW LEADERSHIP
METALCON celebrates the appointment of new leaders to the Metal Roofing Alliance's board and executive committee, ushering in a promising era for the metal roofing industry. Todd Miller, President of Isaiah Industries Inc., takes the reins as MRA's President, with Ken Gieseke (McElroy Metal) as Vice-President, Philippe LaPlante (Ideal Roofing) as Secretary, Brian Partyka (Drexel Metals) as Treasurer, and Mark MacDonald (Sherwin-Williams) as an At-Large Member. Renee Ramey, MRA Executive Director, expressed excitement about their collective knowledge and expertise, foreseeing their contributions driving success and significant growth in the industry. Plan to connect with these industry leaders next month at METALCON, either at their booths or through educational sessions.
GETTING TO LAS VEGAS
With its iconic slot machines and neon lights, the Las Vegas airport is a destination in itself. But beyond the glitz and glamour, LAS offers a smooth and efficient travel experience for millions of passengers every year. The Harry Reid International Airport (renamed from McCarran International Airport in 2021) is conveniently located just 2 miles from Las Vegas Boulevard and 3.5 miles from the Las Vegas Convention Center, with most hotels located within a 15-minute drive from the airport. On average, the airport handles over 130,000 passengers per day and has approximately 1,400 daily flights and serves over 150 destinations worldwide.
SPONSOR SPOTLIGHT
In 2010, Flack Global Metals (FGM) was founded with the mission to reinvent how metal is bought and sold. Just over 13 years later, the company has evolved into a unique and formidable hybrid organization, securing a spot on MCN's Top 50 Service Centers list for seven years running. FGM's model combines an innovative domestic flat-rolled metals distributor and supply chain manager, Flack Metal Supply (FMS), a hedging and risk management group supported by the most sophisticated ferrous trading desk in the industry known as Flack Metal Bank (FMB), and an investment platform focused on steel-consuming OEMs called Flack Manufacturing Investments (FMI). Discover how FGM can help your business find its competitive edge in the world's most volatile steel market by planning to visit us at METALCON – booth #6015.
Discover more about our unique products and service offerings here.