METALCON RETURNS TO LAS VEGAS IN '23
Get ready to win big when the only show dedicated to the use of metal in construction and design returns to one of the world's most exciting cities! Our Vegas shows are always the most popular, and our team is already working on an agenda to deliver extraordinary networking opportunities and maximum value.

JOIN OUR PRIORITY TICKET LIST →
RELIVE THREE AMAZING DAYS IN TWO MINUTES AND THIRTY-EIGHT SECONDS
There's nothing like seeing, hearing, and experiencing the energy and excitement of METALCON in person, but our official recap video comes close! Check it out to learn why long-time exhibitors and first-time attendees are planning to join us in Las Vegas.
BE A PRESENTER AT METALCON '23 — DEADLINE EXTENDED TO 2/28!
Last call for METALCON's "Call for Presentations" We are seeking topics that address real-world, metal-related opportunities and challenges toward a variety of disciplines of the metal construction community with a special interest in technical aspects, building codes, case studies, and sustainability. All topics submitted will be considered for both in-person education at METALCON 2023 and for our year-round METALCONLive! programming.

LEARN MORE AND SUBMIT →

MCA RELEASES '22 ANNUAL REPORT
The MCA Annual Report celebrates members' efforts and achievements from throughout the year. The digital publication showcases what makes MCA so powerful: their members, leaders, and the work. The report covers data-driven insights and statistics, findings about the labor shortage, the anticipated recession in 2023, and other issues impacting the industry. It highlights their successes including the 20 white papers and technical reports published in 2022, the launch of their new professional development program for future industry leaders (in collaboration with METALCON), and the introduction of the Metal Construction Design Awards. Download a copy and share with colleagues and industry contacts to help spread the word about MCA's advocacy, technical resources, and benefits.

LEARN MORE →
METALCONLive! AND THE MCA PRESENT "SUCCESSFUL MANAGEMENT OF METAL ROOFING PROJECTS" NEXT WEDNESDAY
Join industry leader Todd Miller of Isaiah Industries next Wednesday, February 22nd, at 1:00 pm EST, as he shares insight into creating a successful project management plan for new construction or remodel project. While it is not groundbreaking or earth shattering, it is easy for contractors to stray off course of a strategic plan. Join this in-depth discussion as Todd explains when to address inspections, how to manage site visits, when to communicate specificities, and more.

LEARN MORE AND REGISTER →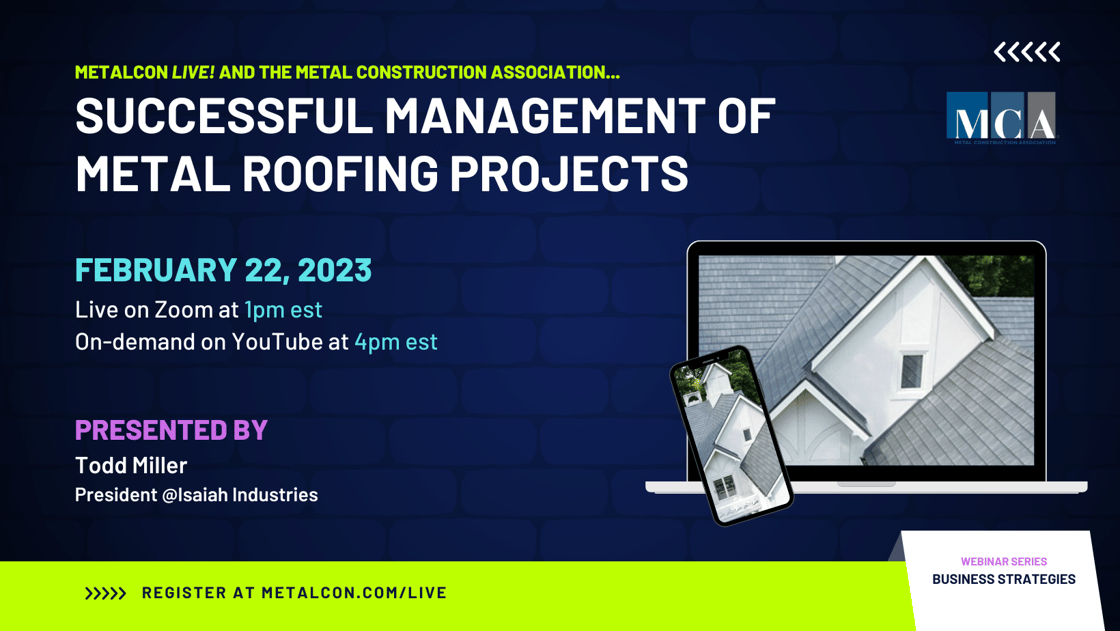 FOND FAREWELL TO METAL CONSTRUCTION HALL OF FAMER SCOTT KRINER METALCON
The Metal Construction Association and the metal industry on a whole lost a true friend and dedicated advocate for the environment and the benefits of building green when 2021 Metal Construction Hall of Fame honoree Scott Kriner, 63, passed away last month. Kriner spent more than 40 years in the metal construction industry wearing many hats including serving as technical consultant for the MCA and as founding chairman of the Cool Metal Roof Coalition. An integral partner of METALCON since its inaugural show, Scott served as one of the trainers for the Metal Roof Installation Program. At last month's MCA winter meeting, Kriner was awarded the Larry A. Swaney Award, which is bestowed upon an outstanding industry professional for their contributions to the success of the association and the betterment of the metal construction industry. Affectionately known as "Scooter" by so many, Scott's legacy will the impact he made on anyone he came in contact with.  READ MORE →
MBMA '22 ANNUAL REPORT – "FROM FORM TO FUNCTION
"The Metal Building Manufacturers Association (MBMA) has released its 2022 annual report, "From Form to Function," focusing on the growing popularity of metal building systems and how MBMA and its members serve the needs of this vital industry. "2022 has seen tremendous growth in the industry despite ongoing supply chain, labor and pricing challenges," says MBMA Chair Tom Boal. "With the need for metal building systems growing, MBMA continues to lead the industry through advocacy, working with building officials and steel suppliers, and providing educational resources." Tony Bouquot, MBMA general manager, adds, "With a record number of new members, 2022 has been a tremendous year for MBMA. Our staff and volunteers have traveled the country, speaking to industry trade groups and associations, advocating for code changes and updates, undertaking significant research and meeting with members and industry leaders." LEARN MORE →
EXHIBITOR SPOTLIGHT | JOE RYAN, MAC-TECH
Mac-Tech has been a one-stop shop for metal fabrication equipment since 1984. After expanding their booth significantly at our show in Indianapolis, we caught up with President Joe Ryan to find out what he loves about METALCON.